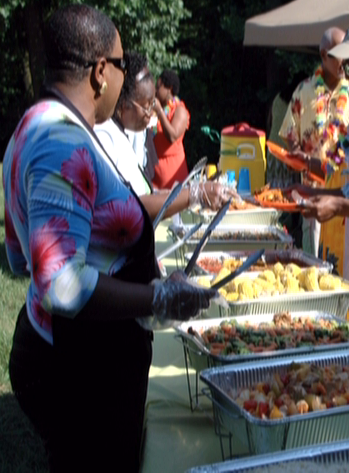 Yvonne Elliott, Catering Director and Owner
Our team is led by Catering Director and Owner Yvonne Elliott.
We are a family owned and operated catering service in Baltimore, Maryland specializing in homemade soul food. Ashburton Soul Shack Catering has over 10 years of experience in preparing and serving delicious cuisine for breakfast, lunch or dinner; from our minced bar-b-que pork or turkey, southern fried chicken, lake trout, ribs, seafood, grits and omelets, to our selection of delicious fruits and vegetable sides. We are proud to announce that we now have available a variety of specialty cakes for any occasion. We prepare food made from scratch with fast and friendly service. We look forward to serving you!
Ashburton Soul Shack Catering offers catering services for corporate and private events. We do it all – churches, schools, weddings, graduations, etc. We have a professional catering team that can provide distinctive formal or informal catering service at any private location, or business organization. Contact us for more information on our catering services. Let our professional crew do the cooking for you. Pick up your catering order or have our crew deliver and set-up your order at your special event.
We invite you to explore our website to learn more about us. We look forward to providing you with catering service for any occasion.
Share on Social Media